Originally released in 1981, this Jeep J10 Honcho returns, this time with unique cargo, decals, and other accessories.
The last time Revell's Honcho was made available was in 2001 when it was dubbed "Pink Poison," as a part of the Blacktop Warriors series. 
The first thing I noticed was the lack of a chrome tree. If you're trying to build a semi-accurate factory/stock Honcho, you'll need to apply chrome to the grille, side mirrors, and both bumpers. I used Alclad II.
Speaking of the grille, it's my least favorite part of this kit because it's inaccurate. It's too tall and has too few horizontal bars between the headlights.
In fact, I think the body sides appear too tall, too, which is a shame because it's a unique subject and a fun, easy build.
You may recognize the "Ice Patrol" name from a different release in Revell's catalog. In 1978, they released the "Ice Patrol" Chevy Off-Road Pickup, which contained the same 1979 Artic Cat El Tigre snowmobile seen here.
Although its windshield fits a bit poorly, I enjoyed painting and building the El Tigre. It went together quickly which is a nice change of pace compared to a full car/truck build, and the snowmobile will fit in the bed of the accompanying Jeep only if the tailgate is open.
The Jeep's engine represents the AMC 401 CID V8 and consists of 13 pieces.  I chose an acrylic from Model Master's military line for a close color match to the reference photos I found online.  It's mated to Jeep's Quadra Trac all-wheel-drive system.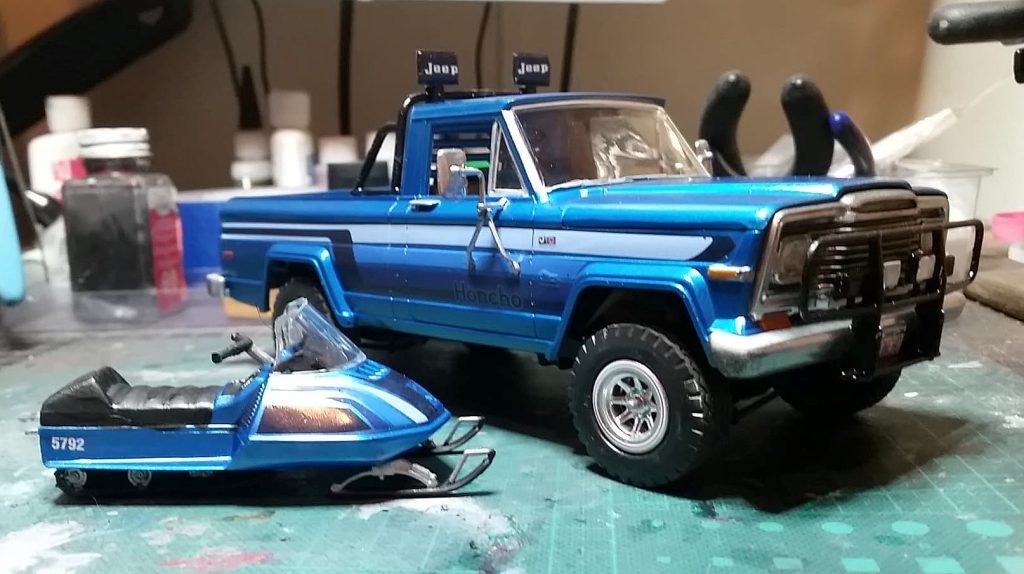 Research on 1:1 Honchos shows a variety of color and stripe schemes, and the decal sheet in this kit offers two stripe options: blue/blue/white as it appears on the box art, or red/orange/yellow as it appears on my build.
Also included is a decal for the script "Jeep" stamped into the tailgate, the "J10" scripts, gauges for both the Jeep and the Arctic Cat, two sets of Wisconsin license plates, wheel pinstripes, and a host of other "Jeep" and "J10" logos.
Applying the long body-side decals was a challenge; even with the setting solution, they gripped the surface of the body faster and harder than what I am used to. 
A single piece of clear styrene makes up the windshield and vent windows, and it snaps in and stays in place without glue. In lieu of a back window, the kit has a louver window cover, which I painted semi-gloss black.
Included in the kit (but not seen here) is a toolbox and a gas can, perfect for servicing the Arctic Cat on a snowy north woods winter excursion. 
All in all, I am happy to see this kit rereleased, and pleasantly surprised by what's included in the box. Everything fits, making it a quick, enjoyable build. It's a good candidate for customizing – whether it be an off-roader, rock climber, service truck, or whatever the builder can dream up.