We associate certain arenas or stadiums with being the Mecca for that sport. In football, it might be Wisconsin's Lambeau Field in a tiny town called Green Bay or the Big Apple's Madison Square Garden for boxing.
The same follows for motorsports. Take the Nürburgring, where leading auto manufacturers flock to Germany to aggressively set astounding lap times around the 12.9-mile circuit.
But then there's Bonneville.
West of Salt Lake City, Utah, is 30,000 acres of flat, salt-crusted ground where vehicles soar down the Salt Flats, shooting high for various land speed records.
Everything from motorcycles clad in aerodynamic body panels, to hot rods, exotics, and wild streamliners that look like rocket ships.
A proven, pioneer of streamliner land speed records, was Art Arfons, who in 1965 launched his bonkers-looking "Green Monster" down the Bonneville Salt Flats three times. He walked away with a whopping 576 mph trap speed, temporarily crushing Craig Breedlove's record and making Arfons and his Green Monster the fastest car on Earth.
"Bonneville is sort of an eerie place. You feel all alone when you're on the salt. You look down that emptiness and it's just eerie as hell. It makes me uneasy," Art once said about this mythic spot.
Replicarz took an obscure subject and has perfectly replicated it, drawing immediate jaw-drops, anxious excited eyes, and plenty of "wows" when I unboxed this model of the Green Monster.
It's massive, even in a 1/18 scale, at more than a foot long, nearly five inches wide, and almost six inches tall.
The finish on this resin die-cast is immaculate, cast in solid shades of the dark "industrial green" that Art picked up for 50 cents a gallon at a war surplus store, plus red, and white.
Even the lime green tail livery bearing "Art Arfons GREEN MONSTER" is spot-on and makes you smile. Sponsor decals for Firestone, STP, Champion, and Alcoa are found ahead of the big rear wheels.
The entire car, 1/1 and 1/18, is built around a 17,000-horsepower J-79 jet engine snagged from a wrecked F-104 Starfighter. It only cost Art $5,000 to scoop that up, attaching it to a rear axle from a 1947 Ford truck, a front axle from a '37 Lincoln, and a steering assembly from a '55 Packard.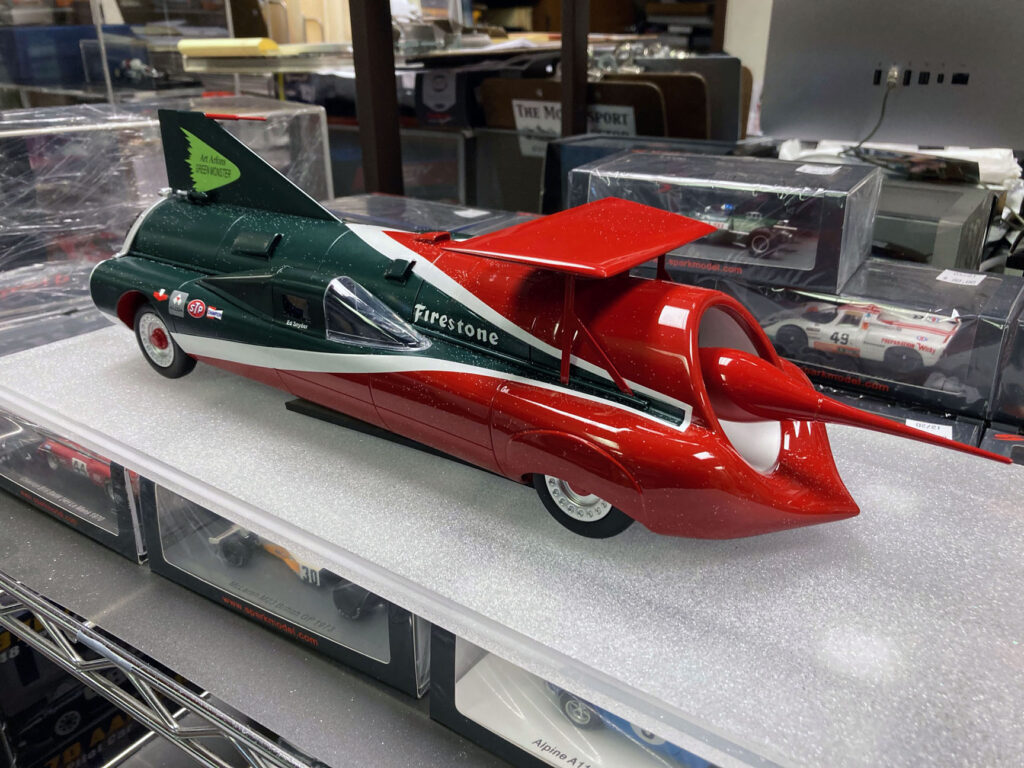 Firestone threw in $50,000 for tires and wheels, which are decently replicated here and feature red hubs.
Peek through a tiny square window into Art's labeled cockpit and you'll see a molded seat, and dash with tiny gauges. A slight inaccuracy is the circular car-like steering wheel. Art fiercely grabbed onto a rather simple metal [-shaped aircraft yoke instead.
The detail continues, with a tiny red tow loop just ahead of the polarizing front end. That loop was used to tow the streamliner around the flats after a run.
In a separate box comes a delicate self-adjusting wing that attaches to the model at the nose to help the monster stay planted on the salt.
The $249.99 price is substantial, but to be able to show off such a unique and special model of a subject that serves as an example of historic, grassroots motorsports success, is a win in my opinion.
Art had a dream, took chances, and made it happen, essentially scratch-building this entire 576-mph beast in his backyard.